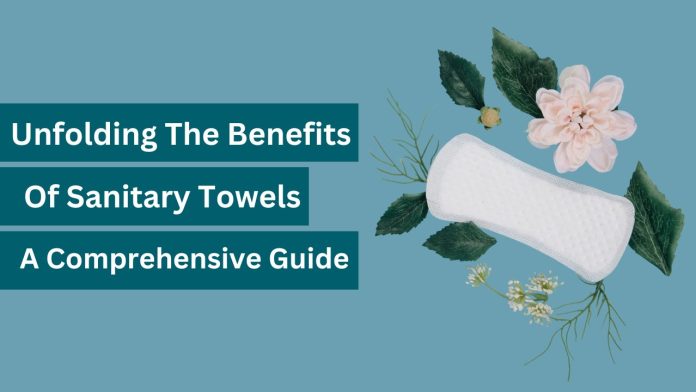 For many of us, sanitary towels are essential to our daily lives. But have you ever stopped to consider the real benefits of this humble yet incredibly important product? From providing comfort and security during menstruation to reducing the risk of infection, there are a multitude of reasons why sanitary towels are so valuable. Whether you're a seasoned user or just starting out, this comprehensive guide will help you explore and appreciate the many benefits of sanitary towels so that you can make informed choices about your health and well-being. So, let's dive in and see what makes these everyday items essential!
Why Choose Sanitary Towels Over Tampons?
Sanitary towels offer several advantages over tampons, making them a preferred choice for many. Notably, they are easy to use and don't require insertion, thus reducing any discomfort or fear, especially for young girls just starting their periods. Towels also pose a lower risk of Toxic Shock Syndrome (TSS), a rare but severe condition linked to tampon use.
Moreover, sanitary towels provide visible proof of the flow, helping individuals to monitor their menstrual health better. Also, towels come in various sizes, absorbencies, and designs, catering to users' diverse needs and preferences.
Lastly, for those who value eco-friendliness, biodegradable and reusable sanitary towels are now available that are kinder to our planet than traditional single-use options. Choosing sanitary towels is not merely about personal comfort, it's also about making an informed choice for your health and the environment.
Materials Used In Sanitary Towels
Sanitary towels are typically composed of three main layers: the top layer, the absorbent core, and the bottom layer. The top layer, or the "cover, " is the part that directly touches the skin. It's designed to be soft and comfortable and is often made of a non-woven fabric that's designed to draw menstrual fluid away from the skin and into the absorbent core.
The absorbent core is the heart of the sanitary towel, responsible for absorbing and retaining the menstrual fluid. This layer is mostly made of superabsorbent polymers (SAPs), materials that can absorb and hold significant amounts of fluid relative to their own mass. They are often combined with fluff pulp, a type of highly absorbent cellulose.
The bottom layer, also known as the "backsheet", is typically made from a thin plastic film. This layer serves as a barrier to prevent any menstrual fluid from leaking onto the underwear. It also often has adhesive strips that allow the pad to stick to the underwear and hold it in place.
In the case of eco-friendly sanitary towels, the materials used may vary. The top layer could be made from organic cotton or bamboo, the absorbent core might be composed of biodegradable SAPs or organic cotton, and the backsheet could be made from a compostable film. These materials are designed to be kinder to the environment, breaking down more easily when disposed of or, in the case of reusable sanitary towels, being washable for repeated use.
10 Benefits of Sanitary Towels:
1. Comfort
One of the key benefits of sanitary towels is comfort. They're designed to be soft against the skin, avoiding discomfort and irritation that might come with other menstrual products. The user doesn't need to insert anything, making sanitary towels a particularly comfortable choice, especially for those new to menstruation.
2. Ease of Use
Sanitary towels are straightforward and easy to use, removing any barriers for first-time users. They simply stick to the inside of the underwear, offering a hassle-free experience.
3. Monitoring of Menstrual Health
Sanitary towels allow for easy monitoring of menstrual flow and color, critical indicators of menstrual health. Changes in these can be early signs of potential health issues, making sanitary towels instrumental in the early detection of problems.
4. Lower Risk of TSS
The use of sanitary towels significantly lowers the risk of Toxic Shock Syndrome (TSS), a severe condition often associated with tampon use. This safety aspect makes sanitary towels a more secure choice for many.
5. Variety of Options
Sanitary towels come in a wide range of sizes, shapes, and absorbency levels. This variety caters to the diverse needs and preferences of users, ensuring that everyone can find a product that suits them best.
6. Eco-Friendly Options
The increasing availability of biodegradable and reusable sanitary towels provide eco-conscious users with options that are kinder to the environment. These eco-friendly alternatives, while offering the same benefits of sanitary towels, help to reduce waste and environmental impact.
7. Cost-Effective
Compared to other menstrual products, sanitary towels are often more affordable. This cost-effectiveness ensures that menstruation doesn't become a financial burden.
8. Accessibility
Sanitary towels, being a common menstrual product, are widely available in supermarkets, convenience stores, and online platforms. This ensures that they are accessible to everyone who needs them.
9. No Interference with Bodily Functions
Unlike tampons or menstrual cups, sanitary towels don't interfere with the vagina's natural functioning, allowing the menstrual flow to freely pass out of the body.
10. Allergy-Free Options
For those with sensitive skin, hypoallergenic sanitary towels are now available. These products are free from harmful ingredients that may cause skin irritation or allergic reactions.
Overall, the use of sanitary towels offers several benefits and advantages over other menstrual products. From comfort and ease of use to safety and eco-friendliness, these everyday items have much to offer regarding health and well-being! With so many options to choose from, there's something for everyone.
Best Practices For Using Sanitary Towels
Choose the Right Size and Absorbency
The very first step in using sanitary towels effectively is selecting the right size and absorbency level to match your needs. Sanitary towels come in different sizes, from panty liners for light flow days to larger, more absorbent pads for heavy flow days. Being mindful of your menstrual flow and selecting the appropriate size and absorbency can help prevent leaks and ensure your comfort.
Practice Good Hygiene
Good hygiene is crucial when using sanitary towels. Always wash your hands before and after changing your pad to prevent the spread of germs. Dispose of used sanitary towels properly by wrapping them in toilet paper or a disposable bag before throwing them into a bin. Remember, flushing sanitary towels down the toilet can lead to plumbing issues and environmental damage.
Change Your Sanitary Towel Regularly
To maintain optimal hygiene and comfort, change your sanitary towel regularly, every 3 to 4 hours is a good rule of thumb, but this can depend on your flow. Leaving a sanitary towel on for too long can lead to unpleasant odors and increase the risk of irritation or infection.
Position Your Sanitary Towel Correctly
Ensure that your sanitary towel is correctly positioned on your underwear for effective use. The adhesive strip should stick to your underwear, and the pad should be centered where it will absorb the menstrual flow best. For sanitary towels with wings, make sure the wings are folded over the sides of your underwear to provide additional leakage protection.
Consider Night-time Needs
For a restful night's sleep during your period, consider using specially designed night-time sanitary towels. These are often longer and wider at the back to provide extra coverage and protection while you sleep. Make sure to change your sanitary towel before bed and first thing in the morning to maintain cleanliness and comfort.
Listen to Your Body
Everyone's body is different, and it's essential to listen to your body's signals. If you notice any discomfort, rash, or irritation when using a certain brand or type of sanitary towel, switching to a different brand or trying an alternative product might be best. Listen to what your body tells you and make adjustments accordingly.
You might be interested in: "What Are Sanitary Pads"
Conclusion
The benefits of sanitary towels are numerous, ranging from comfort and ease of use to the ability to closely monitor menstrual health. With a variety of sizes, absorbency levels, and materials, including eco-friendly options, sanitary towels cater to diverse needs and preferences. Optimal utilization of these products involves choosing the right size and absorbency, practicing good hygiene, changing regularly, positioning correctly, considering night-time needs, and, above all, listening to one's body. Making informed choices about menstrual care products contributes to overall well-being and promotes a healthier relationship with one's body.